It is a little sick how much I love the color aqua. When we first moved into our new house, I realized how little color there was. We could only afford to paint the house four different colors, so for the majority of the house I chose Manchester Tan, an excellent Benjamin Moore color that is soft and goes with just about everything. However fabulous Manchester tan is, I still needed a little color lift. I was beginning to think I was going colorblind because of all the neutrals.
The main color I turned to for help was aqua. A little brighter than turquoise, aqua is fresh and vibrant but still echoes a soothing spa at the same time.
Look at the fantastic bathroom featured in House Beautiful magazine this past spring. It takes robin's egg blue to a new height, punctuated by a unique geometric pattern. I also love the chrome sconces too.
This dining room offers a great balance of modern elements with a mixture of blue hues — my favorite, of course, are the aqua accents on the chairs, drum light fixture and painted ceiling. A monochromatic palette offers so many options to combine textures and metallic elements to add a layered, luxe look.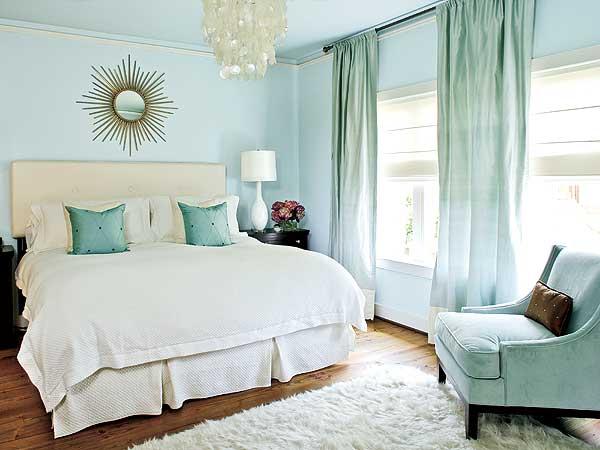 I love these silk drapes in this bedroom. A little more mint than aqua, they let light in and make the room dressy and elegant. And who doesn't love a velvet chair? I am also digging the pleated bed skirt. May have to find one similar for my guest bedroom upstairs.
I have been integrating aqua accents in my kitchen and in my living room to add some unexpected pops of color to our beige house. I cannot wait to show you both. Here is a sneak peek:
Two of my best friends gave me and Wilson — really me —  this amazing mixer for our wedding from Williams-Sonoma. This was my most coveted item on my wedding registry, and I actually screamed when I opened the box. A bit dramatic I'll admit, but I feel like my reaction is mostly justified. I have named her Betty and you should expect great things from her.
Stay tuned for a tour of my aqua-accented kitchen and color-bathed living room!